More Intelligent, Rapid and Precise
Business data is a company's most precious commodity. Several studies have shown that companies in Switzerland tend to underestimate the risk of a cyber-attack. SIX has set up the first Security Operations Center (SOC), developed specifically to the needs of the financial center. The SOC of SIX works around the clock (24x7x365) and is the first in Switzerland to use IBM Watson cognitive computing.
The network run by SIX links the participants in the Swiss financial center. Every activity in this network can be security-relevant. SIX has been operating its SOC since 2018 to provide optimum protection. Every day it collects and correlates two billion security events, at peak times over 30,000 per second: individual events reveal little, correlations only become obvious when viewed en masse.
Make Sure Your Data Is Safe
24x7x365 24x7x365
Our service is available around the clock.
2,000,000,000 2,000,000,000
The SOC collates and scans more than 2,000,000,000 events every day – more than 30,000 per second at peak times – on the lookout for security incidents.
3.62 3.62
IBM estimates that the average cost per attack is USD 3.62 million, or USD 141 per stolen record.
90% 90%
Financial institutions should expect a 90% increase in security events and 50% more attacks than average.
How It Works
Security Operations Center (SOC)
A Security Information and Event Management (SIEM) appliance at your premises collects and aggregates security logs and net flow data from various sources such as firewalls, applications etc. in real time. Offenses are forwarded to the SOC of SIX. Security analysts analyze and detect these abnormalities in real time with the help of cognitive computing. In case of a true positive event (security incident), our team will immediately alert and support you.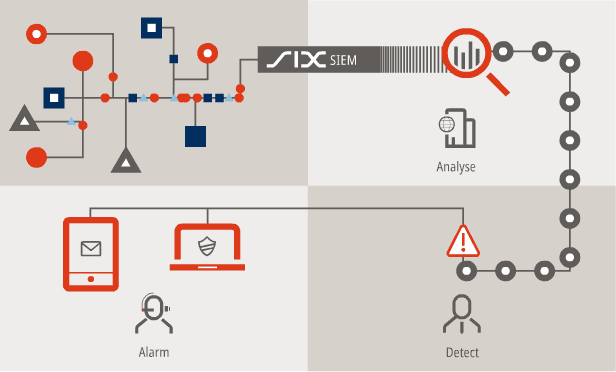 Cyber Security Hub
Protection against cyber attacks is an essential foundation stone for the attractiveness and stability of the Swiss financial center. Cooperation of the organizations involved is necessary in order to increase the cyber resilience of the whole financial center. SIX orchestrates several information-sharing communities and provides valuable information – for example, use cases – to the community.
Key Service Components
24x7x365 security event monitoring and triage
System changes as requested by the customer
Cyber threat intelligence
Transparent service reporting
Cyber Security Hub for information sharing
Fully managed Security Information and Event Management (SIEM) by QRadar
Service Benefits
Your Data Is Safe
Data remains with the client. Only security incidents are passed on for analysis, but data always remains in Switzerland at all times.
Rely on Our Expertise
SIX is a long-established partner of the Swiss financial industry and has proved itself in a highly complex and constantly changing regulatory environment.
Save Costs
Save costs by tapping into an existing infrastructure. An MSS solution is on average cheaper than developing and maintaining an in-house SOC.
Pay for What You Need
The service is based on a modular structure that allows a more flexible and lower cost adjustment to suit the respective client's requirements.
Let SIX Deal with Compliance
The services of SIX also focus on the regulatory requirements of Swiss banks and insurance companies. Our expertise is integrated in the SOC service.
Cyber Threat Intelligence
SIX aggregates, evaluates and enriches various data sources using our own research and observation. SIX also supplements the information with data from Information Sharing.
Resources to Managed Security Services
Working at SIX
Open Positions
We seek out the best – experienced experts and dedicated team players, motivated graduates and ambitious trainees. Find your new challenge with us.