Trust SIX with Your Security
Security Operations Center (SOC) as a Service collects and aggregates security events and netflow data on customer premises from the local Security Information & Event Management (SIEM) system. SIX identifies threats in near real time based on the implemented use cases and forwards identified or suspected anomalies (incidents) to the SOC, where they are analyzed around the clock. If the SIX security analyst confirms the anomaly, a recommended course of action is presented to the customer immediately. The SOC at SIX is compliant with FINMA monitoring requirements and the SWIFT Customer Security Program.
Your Benefits
Recommendations for Defense Strategy
Detect security incidents 24x7x365 – Alarm in case of increased danger with recommendations for action
Cyber Threat Intelligence
Access to cyber threat intelligence and sector related use case library – optimized for the financial sector
Security Information & Event Management
Security Information & Event Management infrastructure: always up to date, continuously maintained and optimized
The Service
Finance-Driven Cyber Threat Intelligence
Use Case Library
Swiss, Global, Finance-Driven Feeds
Incident Response Platform
Customer Interaction Platform
Managed SIEM/Bring Your Own SIEM
Basic Digital Risk Monitoring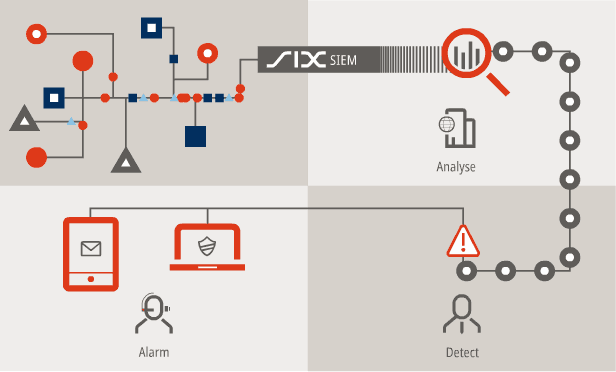 The Security Solution for the Swiss Financial Center
The SOC enables banks and insurance companies to concentrate on their core business. In this way, SIX makes a significant contribution to making the Swiss financial centre safer.