Trust SIX with Your Cyber Security
Security Operations Center (SOC) as a Service from SIX gives you access to a best-in-class SOC, fully compliant with FINMA monitoring requirements and the SWIFT Customer Security Program. Our SOC connects with your on-premise Security Information & Event Management (SIEM) system to collect and aggregate security events and netflow data. Threats are identified in near-real-time and suspected incidents are forwarded for analysis at the SOC, 24x7x365, with a recommended course of action presented immediately once our analysts confirm the anomaly.
How You Will Benefit
Defense Strategy Recommendations
Detect security incidents 24x7x365 with alerts and recommendations for action in case of increased danger
Cyber Threat Intelligence
Access our cyber threat intelligence and sector-related use case library – optimized for the financial sector
Security Information & Event Management
SIEM infrastructure: always up to date, continuously maintained and optimized
About This Service
SOC as a Service by SIX
The SIX SOC was built with the financial sector in mind in order to counter threats intelligently, swiftly and precisely. With SOC as a Service, clients benefit from that finance-driven cyber threat intelligence and a use case library relevant to their needs, including Swiss, global, finance-driven feeds. Customers can stay on top of threats with our incident response platform, customer interaction platform, and either managed or Bring Your Own SIEM as well as basic digital risk monitoring.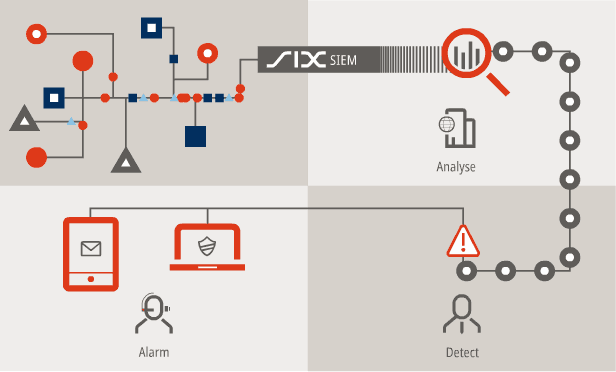 The Security Solution for the Swiss Financial Center
The SIX SOC enables banks and insurance companies to concentrate on their core business while ensuring cyber security best practice. In this way, SIX makes a significant contribution to making the Swiss financial center safer.